What seems to be emerging right now is a trend where a lot of long time members of the guild are deciding to move on to bigger and better things, and quitting the game. This isn't anything I hold against them, sometimes you just need to do something else!
What is concerning is we haven't seen any recruits to replace them. In terms of DPS this isn't really a problem, we usually have enough. In terms of heals and tanks it becomes more problematic.
Our three tanks are very consistent, but we came across the issue last night when the usual OT was gone and I filled in, that the fight where 3 tanks made our lives so much easier (Maloriak) came up, we had a bit of pause. It's very hard to get an additional person ready to tank a raid. Part of it is gear needs to go to your usual tanks, part of it is it's hard to convince people to spend DKP on a set that may be used once every three weeks, when they'd rather save it to outbid someone on a piece they need now. I don't really have a solution (I've accepted that I just have to min bid on everything and hope for the best, since I'm a pretty even 50-50 split between roles).
Healing is sort of a nightmare. Last Sunday we had four healers not show up, and simply could not raid. We got through all our farm content last week, but no real time to speak of in progression.
I think part of the issue is that current raiding really isn't that
hard
. It is difficult, that is for sure, but right now the server supports at least 15 raiding guilds that have, at minimum, killed two bosses. To a progression guild that doesn't sound like a lot, but to a social, two bosses that are perceived as difficult can be enough to stay with a not-so-great guild. I think the less talented guilds need to hit a wall in difficulty and break up, so that the better players in them start applying for the guilds with more progression.
It's not malicious, it's just a symptom of a problem I saw coming back when dozens of new guilds popped up at 4.0 mass recruiting: The server's population is spread too thin, and while it should eventually correct itself, the interim is very annoying.
Has a comic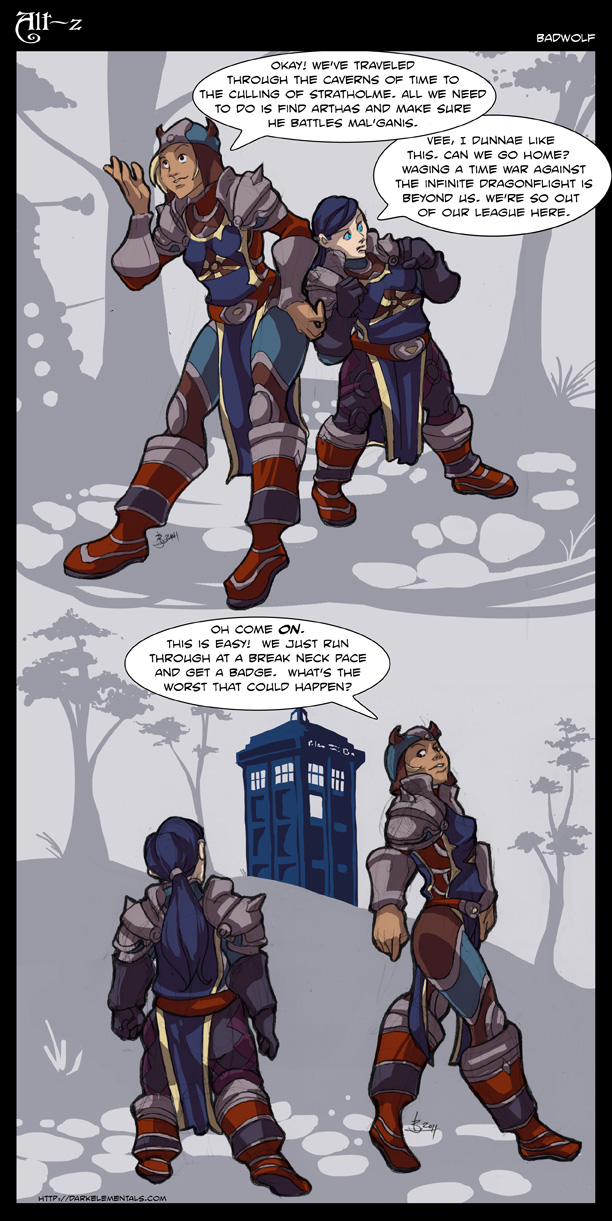 Has a screenshot